August 15, 2016
WIN WITH ABSORBINE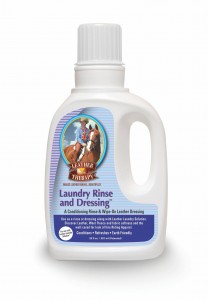 Three lucky winners will win Absorbine's NEW Leather Therapy Leather Laundry Solution (RRP £16.77) and Leather Therapy Laundry Rinse & Dressing (RRP £12.92)
The Leather Therapy Leather Laundry Solution is designed to be used in the washing machine on natural and synthetic leather, fabric and sheepskin items. Laundry Solution works by removing abrasive dirt particles while adding rich leather and fabric conditioners. The patented formula is pH neutral and ideal for use on full seat breeches, full and half chaps, and leather riding gloves. Adding 1-2 capfuls to your wash restores the soft feel of suede or smooth leather, fabrics and fleece; one wash will bring comfort and life back to the leather.
Adding 1-2 capfuls of Leather Therapy Laundry Rinse & Dressing to the rinse cycle will provide superior conditioning for natural or synthetic leather, fabric, wool fleece and sheepskin plus protection from fading, anti-static comfort and a fresh smell. The rinse formula can be used as a wipe on dressing for extra dry leather after washing or 1-2 capfuls can be added to the last rinse cycle of a wash.
Competition closes on the 15th September 2016.
For more product information, visit www.absorbine.co.uk, or on Facebook www.facebook.com/AbsorbineUK