June 24, 2016
Equine dentistry
Have you ever considered training to become an equine dentist? Experienced and qualified Equine Dental Technician Rachel Burton explains the rigorous training required and discusses the various routes to qualification.
Dentistry is now very popular and over the last two decades horse owners have become aware of the need for routine dental treatment for their horses, increasing demand for qualified Equine Dental Technicians (EDTs). Rachel is passionate about the correct training and qualifications for EDTs and says: "I started out on my route to training some 18 years ago and since then the guidelines have changed quite significantly as the trade has expanded."
Short courses offer quick training, however do not provide enough training to fully equip you to be an EDT, and don't include enough information to pass any qualifications.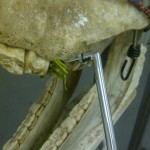 After travelling and working with various animals worldwide, Rachel still required further training and experience in the UK, showing just how rigorous the training procedure is. She shadowed various UK EDTs in order to reach the level required for her BEVA BVDA qualification, which she describes as "very intense." It was from here that she was allowed membership of the British Association of Equine Dental technicians. "I was a council member for four years until I handed the baton on," she explains, "and I support their campaign to lift the profile of good practice and dental training."
The British Association of Equine Dental Technicians provides full guidelines for training.
To date, there have been several routes available to become an Equine Dental Technician, including private apprenticeships, overseas training and formal education programmes in the UK. Since September 2014 Plumpton College has offered a degree course that is an excellent way to enter the profession. The course is made up of bespoke modules including Equine Cranial Anatomy and Physiology, Recording and Undertaking Equine Dental Practice, Lorinary and Cranial Conformation and Professional Conduct for Equine Dentistry. Students will also undertake a final project which will enable them to research an area within equine dentistry.
Tanya Betts from the BAEDT also says: "There is also the option to train as an apprentice with a BEVA/BVDA qualified EDT or veterinary surgeon. This would be the training route the BAEDT would most recommend. This training has to be arranged between yourself and the qualified individual and is usually over a two or three-year period with a view to sitting the BEVA/BVDA examination at the end of that time.
"The BAEDT strongly advise all EDTs to work towards the BEVA/BVDA exam and doing so within the framework of an apprenticeship is by far the best way of achieving this goal."