July 11, 2016
Breeding a competition horse
When it comes to breeding, the process can be difficult. We speak to Issy King, with her own homebred horses, about her experiences with breeding for competition and what it takes to attend BEF Futurity.
Having always dreamt of breeding her own horses and having her own stud, Issy was lucky enough to breed her first horse with the help of an experienced friend. There is a lot of decisions to make when it comes to breeding, from choosing the stallion and mare, to the covering. For Issy, AI. Quitah Whirlwind was the outcome of her first breeding experience. She was born in 2012 and now, being a 16hh 4 year old, has a foal of her own. Issy explained, "We chose to put her in foal as a 3 year old, as she wasn't quite ready to start work,  it is the ideal time for them to have a foal before their career begins." Issy will start Quitah under saddle after the foal has been weaned, with the intentions to produce her for show jumping. Issy adds, "the thought of competing my own homebred is very exciting! We attended BEF Futurity, where she gained a 1st Premium in both Eventing and Show jumping. It was a great experience."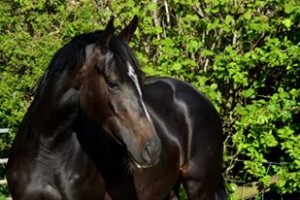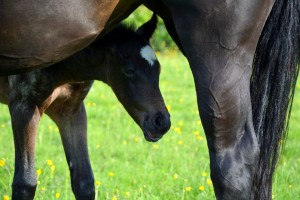 After breeding Quitah, Issy was keen to do this again. In 2011, Issy decided to take a big step and put her horse of a lifetime 'Bolgoed Lady Legend' (Lady) in foal. "She was a little horse with the biggest heart, jumping heights of 1m60 with ease. I spent two years deciding what stallion to use; going to several different stallion events and finding the one which would compliment my mare best." Being small and fiery meant she didn't have the biggest of strides so Issy was looking to add blood, length of stride and a level head. "After much deliberation we chose the young Holstein stallion 'Cash Point' he stood out in many ways, and ticked all of the boxes." That was the easiest part for Issy…it was a long road getting her in foal. Lady sadly kept accumulating fluid after being inseminated, therefore she was reacting to the extender used to put in the semen to extend its life. After 3 failed attempts and a rather large vet bill, Issy got lucky on the 4th cycle, she said "I will never forget the feeling of seeing that black circle on the scanner!"
 It was a long wait, with lots of false alarms. But finally after 356 days of waiting a perfect colt was born. Issy named him 'Champ' after her first pony, and 'Cash Legend' is his registered name. As he was a colt one of Issy's main aims was to keep him entire – so it was very important he knew manners from day one. Issy spent a lot of time as a foal teaching him the word 'No' and showing him the world.
As a yearling Issy took him to the BEF Futurity Evaluations, hoping for another 1st Premium. "I was completely shocked, and delighted when he received an ELITE and scored 9.1 out of 10 as a potential show jumper…If that wasn't enough he then went on to be Joint Yearling Champion throughout the series out of all the disciplines." Issy went to London in January for the British Breeders Awards, she said, "never did I imagine I would be sitting amongst such incredible horse breeders, it was so surreal and a real honour."
Issy recommends ground work, training, manners and relationship building, when dealing with a foal or youngster. These are fundamental basics that are really important to establish before getting on board as a 3 or 4 year old. As well as this, desensitising with plastic bags, umbrellas, tarpaulin sheets on the ground and even cars driving round the arena to get them used to traffic! Issy also does some local in hand shows to get them used to going out and about and the busy atmosphere.
Breeding your own horse can be very rewarding! Issy is hoping to licence Champ next year with AES and stand him at stud in the future, as well as competing him in Show Jumping! To follo his journey, visit his facebook page 'Cash Legend'.